Discover the arenas of Nîmes
Close to our hotel in the city centre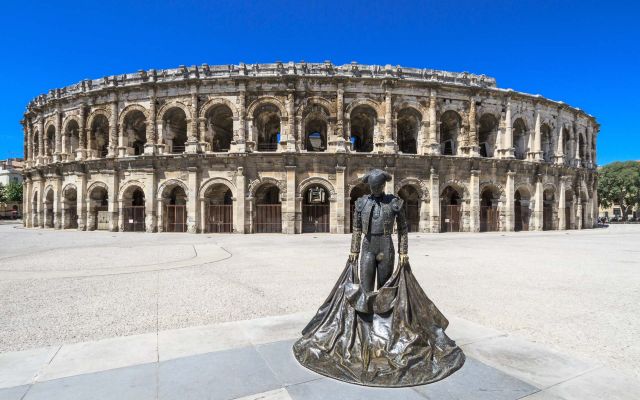 From our hotel in the centre of Nîmes, it takes less than 10 minutes for you to discover the world's best-preserved Roman amphitheatre! The famous arenas of Nîmes are both the unmissable icon of the city and its central point.
It was likely at the end of the 1st century AD that the first stones of the arenas were laid down to entertain the Roman colony of Nemausus. Spread across 34 rows according to their social status, more than 23,000 Gallo-Romans would watch gladiators or animals fighting.
Always a show space, the arenas of Nîmes nonetheless ceased to be so after the fall of the Roman Empire and were transformed into a fortress and later a residential area. Restored during the 19th century, the arenas of Nîmes now provide a special stage for all the shows and events in the city, from the bull fights and races organised during the ferias to concerts, plays and comedy shows.
The arenas of Nîmes are open everyday except during ferias or when shows are on. Open in July and August from 9am to 8pm; in June from 9am to 7pm; in April, May and September from 9am to 6:30pm; in March and October from 9am to 6pm; and in January, February, November and December from 9:30am to 5pm.
The team here at the Majestic are available to offer you support in organising your visit to the arenas.