Ponder and wander in the heart of the city
Extraordinarily beautiful gardens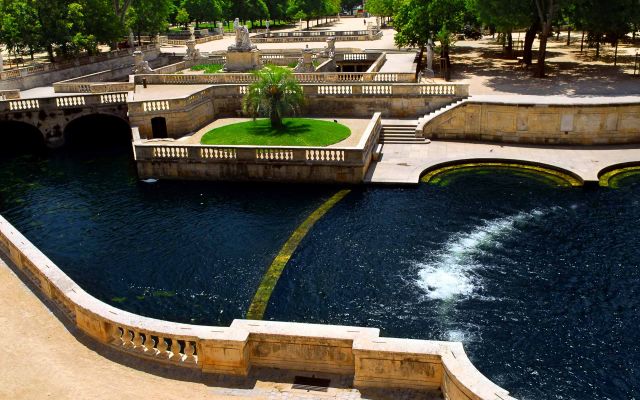 After having spent time walking around Nîmes' historic centre and visiting the arenas and the Maison Carrée, head a few hundred metres away and prepare to have your breath taken away by the sumptuous Jardins de la Fontaine.
Just 20 minutes on foot from our hotel, let yourself go along the tree-lined pathways of these public gardens full of lush Mediterranean plants, and to admire the natural site where the water spring that was at the origin of the city's foundation.
Laid out in the middle of the 18th century, this iconic traditional French garden is home to remnants of a bustling Roman quarter hidden among the cedars and chestnut trees. As well as the Temple of Diane and the Tour Magne, discover the many treasures hidden in the Jardins de la Fontaine, including the ruins of an ancient theatre and a sanctuary dedicated to Emperor Augustus.
Located on a hill right in the middle of the city lie the Jardins de la Fontaine. Labelled a "Remarkable Garden" by the Committee of Parks and Gardens and the French Ministry of Culture, these public gardens were built on a magnificent historical and natural site spanning 15 hectares. They are open from 1st April to 31st August from 7:30am to 10pm; from 1st to 30th September from 7:30am to 8am, from 1st October to 1st March from 7:30am to 6:30pm; and 2nd to 31st March from 7:30am to 8pm.