Discover the Maison Carrée
from our hotel in the city centre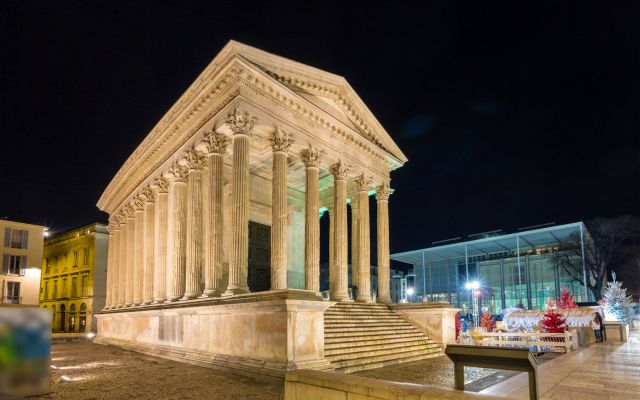 Located just a 15 minute walk away from our hotel, the Maison Carrée is the only temple from Antiquity that is completely preserved. Going to admire its age-old façade is a must.
The emblematic silhouette of the city of Nîmes, the Maison Carrée will astound you with its perfect geometry and above all by its remarkable state of conservation. Built around 2000 years ago in honour of Gaius and Lucius Caesar, the grandsons and adoptive sons of Emperor Augustus, it made up part of the Forum, economic and administrative hub of the ancient city. The building and its six-column portico remained intact throughout the centuries, well after the fall of Rome. Beginning in the 11th century, the former temple served successively as a stable, private apartments and a church, before becoming the first seat of the prefecture of the department of Gard after the French Revolution, and finally becoming the centre for the department of Gard's archives. The square was restored in 1993 by the architecture of the city's nearby Carré d'Art museum, Lord Norman Foster, in order to create spacial unity between the two buildings. Restoration on the Maison Carrée began in 2006 and was completed in 2010.
The Maison Carrée is open every day of the week. Open in July and August from 9:30am to 8pm; in June from 10am to 7pm; in April, May and September from 10am to 6:30pm; in March and October from 10am to 6pm; and in January, February, November and December from 10:30am to 1pm and 2pm to 4:30pm.